Donna Designs is a boutique located at the Waterfront Shops, just north of the water tower in Duck, North Carolina.
Follow the ramp to the boardwalk overlooking the Currituck Sound, and you'll find yourself at the front door of Donna Designs. Beautiful sunsets, waterfowl and fish can be seen daily and have been bringing visitors to the Waterfront Shops since Donna opened her store there in 1987.
Once inside, you'll be surrounded by color. Baby onesies and ladies fashion tees are transformed into wearable art when Donna adds her colors. Remember the designs are "One of a Kind, One at a Time" and you'll find a small design on the back with Donna's signature. We can work wonders combining colors and styles for that special look. It's fun to mix and match Donna's tops with some of the other clothing lines we offer, such as Jag Jeans, Wild Palms and Sea Breeze.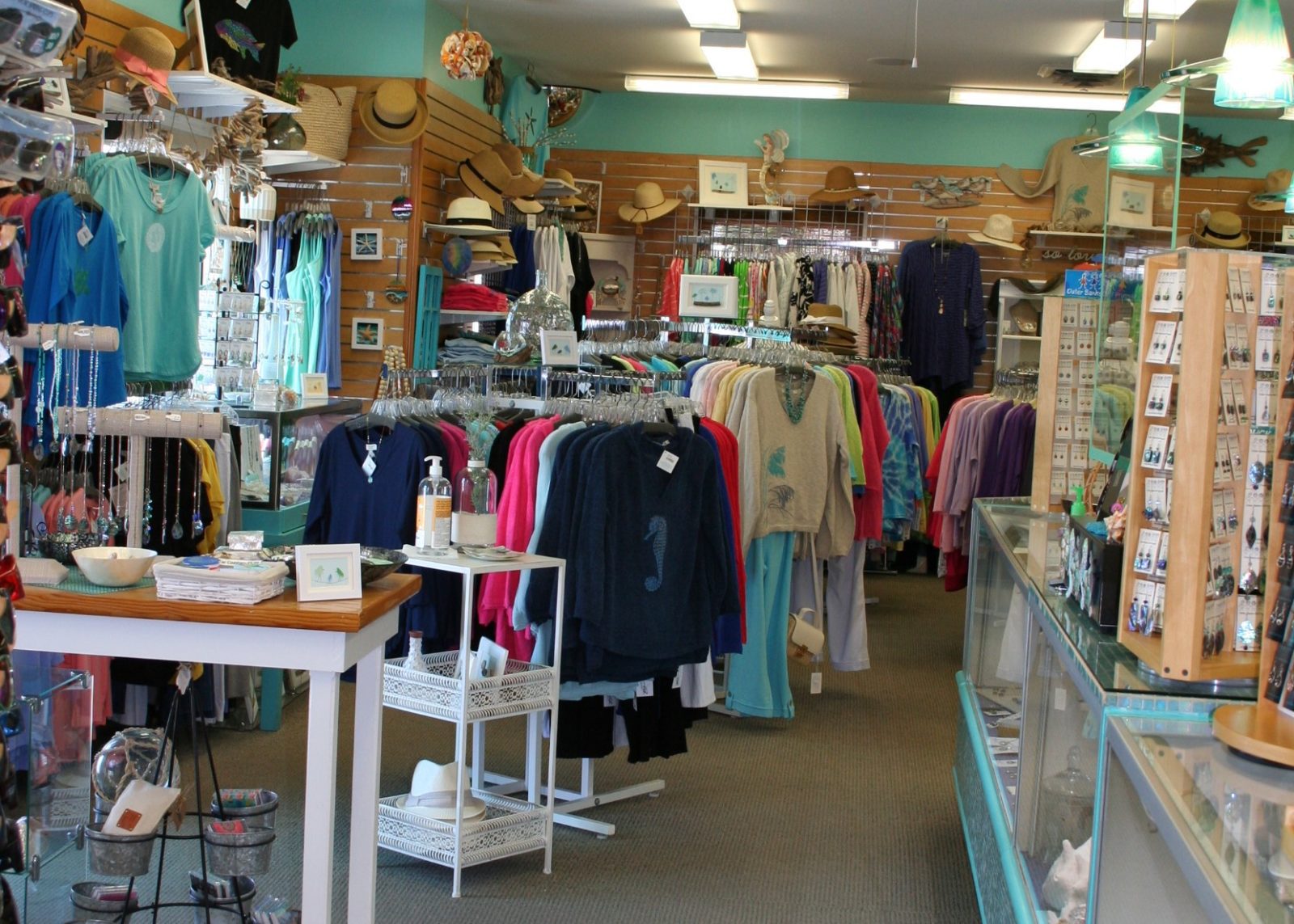 Gather an armful of clothes and head to the dressing rooms. Even the dressing rooms add to the fun. Each features a decoupage wall with a different theme. The first room is about the history of Donna Designs. Newspaper articles and photos as far back as the 70's are displayed there. Donna had some wild design ideas back then! The second room is dedicated to the monarch butterfly. Pictures of the monarch in all stages as well as articles, including the cover and article from the August 1976 National Geographic can be seen there. This is the issue that published the very first pictures ever of the monarch overwintering sites in Mexico.
Emerge from the dressing room and start to accessorize. Our hats are great for the beach and we have several lines of beach bags and purses. We love to accessorize, especially when it comes to jewelry! We are constantly searching for new unique jewelry lines. When we find something we like, we get excited and we stick with it. Choose from Mosaico, sterling silver with seashells , Sea Glass by K-Bay , Baked Beads and some spectacular abalone. Our exclusive jewelry line is Outer Banks Girl Friends, which is local group of women that do an array of dazzling jewelry!
In addition to Donna's hand painted baby onesies, dresses and tees, we're packed with stuff for kids. We have a large selection of Stephen Joseph, Mud Pie and Great Pretenders gifts. Toddler tutus and wands in bright colors as well as pastels are in abundance in the kids section, as well as soft stuffed animals, wooden toys and puzzles.
We tuck treasures and an ever changing selection of gifts into any bare corner left. So when you stop by, spend some time taking it all in.
This is just a taste of what we carry for the ladies. New items arrive weekly and you never know when Donna may pop in with a new design.